Business Overview
The SI/NI business departments of barun Technology have accumulated high level of technology and abundant experiences in
various SI/NI fields with the development of wire and wireless ICT industry.They providehigh-level IT services
based on a systematic business quality assurance system.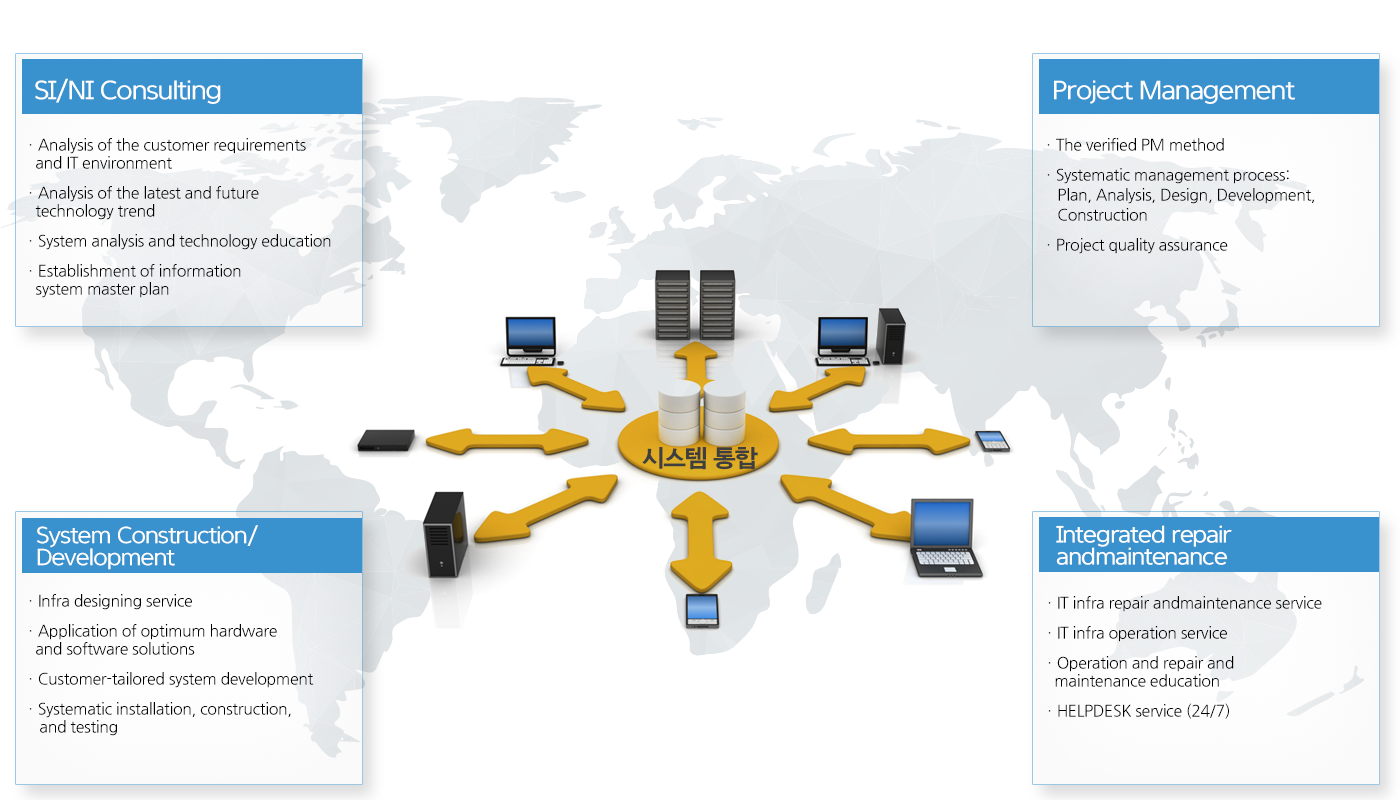 Possession Technologies
Possesses general communication network design technologies based on practical experiences for about 50 years, with
professional experts in each area Possesses consulting, design, and installation technologies for
wire and wireless communications, multimedia, surveillance, and other system solutions.
Introduction of Solutions
Wire and wireless communication
Ethernet Switch, Router
Wi-Fi, transmission equipment
WAN/application acceleration
Communication security andmanagement system
VoIP, Softswitch, IP PBX
IPTV, andimaging system
Server and storage (for Telco and other enterprises)
NAS/SAN Controller
System dualization and backup solution
Vitualization/Cloud solution
2017.07
Supplied VR equipment for meditation in 2017
Provided Internet phone construction service for Nonghyup branches (2nd

)

Supplied SOLIDWORKS to Pope Bebe and 2 other companies
2017.06
Introduced the foreign investment system (L2) to the Bank of Korea(BOK)
Supplied leasing equipment to Yeongjongdo
Supplied SOLIDWORKS to FieldDaisy and 5 other companies
2017.05
Provided 24-hour control service for the Korea Foreign Trade Association(KFTA)
Provided integrated maintenance service for KTNET in 2017
Provide QoS introduction service to the Bank of Korea(BOK)
Supplied SOLIDWORKS to Jeil Fine Machinery MFG and 4 other companies
Provided ABAQUS interpretation service for Enna Industry
2017.04
Replaced the communication equipment (L2 switch) of Nonghyup branches in 2017
Replaced the communications equipment of the Bank of Korea (BOK) in 2017
2017.03
Provided line maintenance service to Community Credit Cooperatives
Provided L3 switch maintenance service to Community Credit Cooperatives
Provided network maintenance service to Community Credit Cooperatives
2017.02
Moved and installed the computer equipment to the head office of the Bank of Korea (BOK)
Provided system infrastructure construction service for KEPCO
Provided the 1st

Internet phone construction service for Nonghyup

Supplied SOLIDWORKS to Miraeeng
2017.01
Provided network maintenance service to COEX Mall
Supplied SOLIDWORKS to Linetek System
Provided Internet phone construction service for Nonghyup branches (1st

)
2016.12
Set up LAN and maaintenance for Coex Exhibit hall on 2017
Supply CISCO network equipment
Purchased SOLIDWORKDS for SAMKWANG POWER SYSTEM CORP.
DGEN CATIA V5 maintenance contract
Purchased backbone switch for SEOYON E-HWA Co., Ltd,
Purchasing contract CISCO network WAAS and router equipment
Maintenance for developing communications network of Nonghyup Bank
2016.11
Combined maintenance Service for KT exclusive telephone network(intent phone) on 2017
Purchased two HPP440 of WOOJIN-HITECH
Purchased 2 copy of HANIL ONEEX SOLIDWORKS Professional
Maintenance for Nonghyup community center on 2016
Rredeployment a thermo-hygrostat for Korea Technology Finance Corporation
Security switch combined maintenance for Head office of Nonghyup Banks
Security switch combined maintenance for Nonghyup Bank
2016.10
HANGARAM network upgradability business
Adopted Changed communication equipment of the bank of Korea
Devleop SEOYON E-HWA fire wall
Purchased KPS SolidWorkds
2016.09
Supply equipment for constructing Common Use Terminal Equipment(network)
Initiative steps business of constructig U-CITY in Incheon Song-do International Business District
Adopted security switch for expanding wireless infiltration prevention system
Maintenance Network Equipment of BUMIN HOSPITAL HAEUNDAE
Supply WASS and router equipment to Yuhan Kimberly
2016.08
Supplied L2 Switch (secondhand)
CCTV and Security Monitoring System Maintenance for Busan Newport Multi-purpose Terminal
Switch repair for SEOYON E-HWA
Supported communications network changing business for SEOYON E-HWA
2016.07
Maintenance Network-Server for Soo-Hospital
Maintenance Network-Equipment for Busan-Korea Hospital
Korea Hospital of Korea Medical Foundation
Layout Construction for Guangju Technology Converging Center of KIbo (Korea Technology Finance Corporation)
Supplied L2 Switch
Constructed wireless network for BUMIN-Hospital Busan operating room
Purchased business branch communication equipment(L2 switch)
Changed the security switch for Youjinreydel branch building
Constructed wireless network for Youjinreydel Building
Fedex X-Ray data transmission
Nonghyup second purchasing of internet IP phones
2016.06
DAISHIN Information Communications Co., Ltd.
Purchased SEOYON E-HWA network switch
SEOYON E-HWA Co., Ltd, Ulsan factory
Changed the 9700 module for JEJU coast guard
Constructed the Chorang complex network
SEOYON E-HWA Network CommunicationRak improvement Construction
Supplied vaccine backup IPS option to Soo-Hospital
2016.05
Korea Trade Network combined maintenance Service
Korea International Trade Association 24 hours control service
Supplied Fortgate_80D
Supplied and Constructed a broadband network for Nonghyup combined IT center
Supplied wireless LAN security equipment
Genie NAC Equipment Construction Service MG Community Credit Cooperatives
2016.04
H/W, S/W combined maintenance for Nonghyup Life
Maintenance All Call Paging system for Busan New port
SEOYON E-HWA network equipment(firewall, backbone) maintenance
Purchased internet IP phone for Nonghyup
Changed the firewall for Gupo Bumin hospital
Appurtenant construct changing layout for KIbo (Korea Technology Finance Corporation) Cheonan branch
Relocating data processing appurtenant construct for KIbo (Korea Technology Finance Corporation) Bupyeong branch
Supplied the Korea Spirax sarco CP7942G
The first construct for Nonghyup business branch premises
2016.03
Supplied Nonghyup groceries switch
Constructed a wireless environment, Reinstallment (AP, PoE switch1) for SM duty-free-shop
Supplied wireless AP for Korea Spirax sarco
Supplied the CISCO switch for Kimberly-Clark Innovation
Supplied GLC-LH-SMD
Maintenance for KYOBO LIFE INSUREANCE CO., Ltd.
2016.02
Maintenance GENI NAC equipment for the Korean Federation of Community Credit Cooperatives
Constructed WMS(iAS) for TATA DAWOO Commercial Vehicle Company
Camera repair work for Busan Newport Multi-purpose Terminal
Changed a voice recording server for Busan newport
Constructed a distribution center network for SEJUNG
Maintenance for Youjinreydel network equipment
Maintenance SWIFT network equipment for the foreign capital system of The Bank of Korea
2016.01
Maintenance for Busan New port customs CCTV factory
Maintenance for COEX integrated management system
Maintenance backbone for MH YEONSE hospital
Maintenance for Seoul Bumin hospital network equipment
Maintenance network equipment for Bumin hospital
Maintenance for SL Network
Changed Computer room switch for Busan Korea hospital
2015.12
Maintenance network equipment for Hanil hospital
Security switch combined maintenance for Head office of Nonghyup Banks
Security switch combined maintenance for Nonghyup Bank
Separated network maintenance for The Bank of Korea
Maintenance All Call Paging system tracks
Constructed an internet telephone system for Nonghyup
2015.11
City Airport network upgradability business
Maintenance the information security system for Nonghyup Information System
Constructed a security switch for Crown harbor hotel
Voice recording repair for Busan Newport Security Company
Constructed a server farm switch for Busan Korea hospital
Constructed an internet telephone service facility for Nonghyup
Constructed a combined wire-wireless service for Air terminal SHINSEGAE duty free shop
Constructed a wireless service for SM duty free shop
Maintenance for Nonghyup community center
Combined maintenance for the bank of Korea network
2015.10
Constructed the an internet telephone service for Nonghyup(voice recording)
Constructed a CCTV intelligent video monitor system for Busan Newport Multi-purpose Terminal
2015.09
Gyeongju broadcasting system business by Korea Hydro & Nuclear power Co., Ltd.
Constructed a new network for HAEYANG city gas Jangheung branch office
Constructed NMS & TMS for Kyungnam College of Information &Technology
Replacement communications equipment for the bank of Korea
Duplex power switch for Busan Korea hospital
Supplied KTNET Switch
Maintenance Yoojireydel Network Equipmemt Maintenance
2015.08
Maintenance Specific Post Office Pension Service Agency
Supplied Sejong City Office of Education
Hankook Tire Construction
Constructed Bucheon Chamber of Commerce and Industry
Made Contract of Maintenance, Seoul Housing & Communication Corporation
2015.07
Supplied L3 Switch to Jeju Tourism Organization
Haeyang City Gas Communication and Server Maintenance
Maintenance Su recuperation Hospital Network Equipment and server
Maintenance Busan Korea Hospital Network Equipment
2015.06
KEPCP E & C IT Center Gimcheon, Move to New Buiding and Construction
Constructed Ministry of Culture, Sports and Tourism Cyber Security Center Culture Information Back-up System
Maintenacne Middle age Job Heemang Net
Purchased Information System Equipments
2015.05
Maintenance KTNET Network
Changed Kyobo Life Network Seperation Internet Network Monitoring
Maintenance Korea Institute for Curriculum Evaluation Security Equipment
2015.04
Constructed Haewundae Bumin Hospital Network
Yuhan Kimberly Old Equipment Business
Constructed Highone Switch Bag Integrate System
2015.03
Annual Maintenance Network and Mechanical Equipment
MG Community Credit Cooperatives
Maintenance Kyobo Life VPN Equipment
Supplied KT Managed Service N/W Equipment
Maintenance CALT Network
Maintenance Kyobo Life Network
2015.02
The National Weather Service Network Service Contract
Maintenance Credit Counseling & Recovery Service
Maintenance the Bank of Korea Foreign Capital System
Constructed New Branch's Internet Telephone Facility
Supplied KTNET Switch
Maintenance Yoojireydel Network Equipmemt Maintenance
2015.01
Security switch integrate Maintenance
Coex Exhibit hall LAN and Maintenance Consignment Contract
Gangwondochung Building Internet phone and Premises railroad Construction Service
Haeyang City Gas Call Center Communication Construction
2014.12
Korea Bank Foreign Capital SWIFT Network Maintenance
Kyobo Life, Supplied Data Center Reg
Constructed Busan Port Instruction System
2014.11
Constructed Shinsegae Duty-Free Shop Logistic Center Wireless
Additional development Of China Jungju Library Old book System
Korea Labor Foundation, Middle age job "Heemang Net" System Improvement Business
Constructed Youngjong-Do Korea Duty Free Association Warehouse No.2 Communication Node
2014.10
Purchased Try value ga incubator Korea Network Equipment and Maintenance
Busan Newport Multi-purpose Terminal Co., Ltd Security System Maintenance
Constructed Haeyang City Gas, Hampyung New office
Youngjong Do Korea duty-free association No.2 warehouse Communication
2014.09
Duwon Engineering College, Adopted Network experiment training apparatus equipment and materials
Constructed KTNET Remote Back-up System
Mario Outlet Network Equipment Maintenance
Adopted Foreign Exchange Computer Network
2014.08
Purchased KTNET DB Network L4 Equipment
The person in charge of Customer Information Network Security Switch
The Bank of Korea, Adopted Communication Equipment
ncheon International Logistics Center (IILC), Constructed Equipment Main Object
2014.07
HAEYANG City Gas Communication, Equipment and Server Maintenance
Busan Korea Hospital Network Equipment Maintenance
Constructed HIGHONESWITCHBAC Integrate System
In-house Information Protection System Maintenance
2014.06
Purchased Goods for SAMSUNG LIFE Internet Call Service
Pohang Harbor CCV Integrated Watching System additional Construction
Constructed WAN Accelerators Youcocacarriers strategic goods maintenance
2014.05
Korea Bank Financial Network, Adopt Combined Server for Mediation Equipment
Constructed MH Yeonsei Hospital NAC and Qos
Purchased Communication Equipment(L2 Switch) for Branch
2014.04
Branch Network upgradability, Line Service Utilization Business (KT, LG)
Constructed Integration Chungju Information Network System
Maintenance Local Center Backbone Communication Equipment
Highbrand, Adopted Security Switch at the lent building
2014.03
Constructed Network in Korean Red Cross Seoul Branch
Gangwon National Weather Service Maintenance
Maintenance Branch's communication equipment
Adopted Internal Control Security System in Nonghyup Life
2014.02
The National Weather Service, Building Weather Information Communication Network IP Equipment
Network Maintenance in Kyobo Life
An extension of installations Low resolution Storage for Broadcast NPS
Starco Network maintenance
Supplied Web Service Dualization Equipment to KYOBO LIFE
2014.01
Supported Gyungnam Information University Network Technology
The Bank of Korea Network integrated maintenance
Constructed Nonghyup Internet Phone additional
Exclusive Voice System Integrate Maintenance
National Weather Service Network Equipment Maintenance
SL Network maintenance
KTNET 2014 Data System Maintenance Contract
2013.12
Yonsei Hospital Backbone Repair andMaintenance
Introduction of communication equipment for Internet-testing network and mobile fault management
Additional establishment of the KCA audience media center
KIBO Ilsan Technology Assessment Center Computing Subsidiary Work
2013.10
Kyungnam College of Information andTechnology QOS establishment
COEX Exhibition Center/Conference Hall
LAN installation and construction
2013.09
Ulsan Port CCTV monitoring system repair andmaintenance contract
2013.08
Busan New Port Multipurpose Terminal CCTV and Security Monitoring System Repair andMaintenance
KTNET External Service System Construction
2013.07
Ministry of Unification North Korean broadcasting reception system repair andmaintenance
Business branch decrepit switching hub replacement and installation
2013.05
Medical information system construction
2013.03
Kyobo Life Insurance mobile business support system construction
Busan New Port general situation room projector installation work
2013 network equipment repair andmaintenance
2013.02
Cheongwon Medical Foundation Soo Hospital network construction
NH private telephone network system integration repair and maintenance
Medical Product Side-effect Report Center system installation
2013.01
Korea Meteorological Administration network repair andmaintenance
Yoengju Dam submerged district IP switchboard installation
Korea Expressway Corporation LAN and WAN replacement device installation
2012.12
KIBO Seongnam and Sasang Branch computing subsidiary work
STX Group Namsan Office entry control system installation
2012.11
STX Electric Power Donghae Office network facility installation
Incheon International Logistics Center network repair and maintenance
2012.10
Damyang and Haenam Office new installation
Installation of communication devices for the business branch Internet network installation
2012.09
Kumbokju firewall repair andmaintenance
2012.08
MA Life Insurance network device repair andmaintenance
CCTV/security and monitoring system repair andmaintenance
The first installation of integrated control system
Nuri Telecom private office network installation
IBK backbone router and switch technical support service contract
2012.07
NH Life Insurance Computing Center communication security equipment supply
Seohae City Gas network repair andmaintenance
Gyeonggi Office of Education integrated type IP-PABX purchase
Korea Cadastral Survey Corporation communication network advancement infra construction
2012.06
Wireless equipment supply
Korea Yakult Head Office communication work
Yuhan Kimberly communication equipment supply
Harmful case report management system installation
2012.05
Busan Korea Hospital
Korea Flange PDA and wireless LAN installation
Keimyung University new graduate school computer network construction
Gimcheon plant network installation
Hankuk Oral School managed equipment supply
2012.02
Dongseo University information andcommunication network equipment supply
Kyobo Life Insurance Call Center decrepit equipment replacement work
Gangnam-gu CCTV network information protection system construction
2011.12
NH Anseong Center integrated monitoring staff repair andmaintenance education
Kyobo Life Insurance MSPP equipment supply
Computer infra and information protection system extension
LG Academy management simulation development
Educational Affairs Section and Future Education Section transfer work
2012 wireless network system repair andmaintenance
Gyeonggi-do UTIS installation work
2011.11
NH security switch introduction
BOK Human Resource Development Center wireless AP purchase
Kyobo Life Insurance backbone network construction equipment purchase
NH SoIP advancement project
Road Traffic Authority TBN Daegu H.Q Traffic Information Situation Room
Korea National College of Agriculture and Fisheries education operation andinformatization infra replacement and extension
2011.10
Integrated control department keyphone and computing equipment supply
Information system repair andmaintenance outsourcing contract
Military civil complaint service advancement/DBMS SW purchase
Bumin Hospital network equipment supply
2011.09
JinjuHanil Hospital network equipment repair andmaintenance
Server and network (Server and L4 Switch) annual repair andmaintenance
Han River intelligent parking control system construction
Seoul Baekje Museum network and security equipment supply and installation
Network equipment supply for the MES system construction
Korea National College of Agriculture and Fisheries education operation andinformatization infra replacement and extension
2011.08
Korea Foundation for the Advancement of Science andCreativity server repair andmaintenance
Seoul Medical Center medical record image visualization work contract
Kyobo Life Insurance VPN equipment Refresh
2011.06
Naval War College strategic training system equipment replacement
2011.08
LG Fashion IPT construction
Group standard online expert participation system and H/W and S/W purchase and installation
Information service and information security monitoring system construction contract